Dei Lange Tinga / The Long Things

Site-spesific sculpture exhibition for the festival Sommarljom in Ørsta, 27.-29. july 2021
Water-repellant polyester, reflective fabric, polyester filling.

With lengths varying from 20 cm to 6,5 metres, the sculptures were placed in trees and in the grass in the steep hayfield of an old farm, which served as the festival site.
Venner - Kunstmøter i Barnehagen 2021

Project in collaboration with Klosteret Barnehage, by initiative of Bergen Kommune. The aim was to create interactive, physical encounters between children and sculpture.

The project was divided into three parts:

Meeting and playing with 5 large soft sculptures, where after an initial introduction, the children were free to approach the sculptures on their own terms. I often use the word "friend" about the sculptures I make, and and continued this when I introduced the sculptures to the children. Which sculptures are friends with each other? What properties do they have in terms of shape and color? We talked about what the shapes reminded them of, and what they could be, and the children gave them names and personalities.





In part two the children were introduced to 20 smaller sculpures, all in the same shape but made in different fabrics. The sculptures were round with two «arms». I introduced the sculptures to the children in small groups. The sculptures have been allowed to stay in the kindergarten on a permanent basis, so that the children could use them in their everyday play time. The aim was that these objects would take on an infinite number of roles through play and interaction, and become living art objects.





In part 3, the children got to create their own soft sculpture friends. I made objects in white cotton which children could paint and decorate according to their own wishes. The objects were the same size and shape as the ones in part 2. The children used watercolors, markers and sequins to create their expression. The sculptures were hung in the window of the kindergarten as an exhibition for the entire kindergarden and for the parents to see. Afterwards the soft sculptures went home to their respective maker.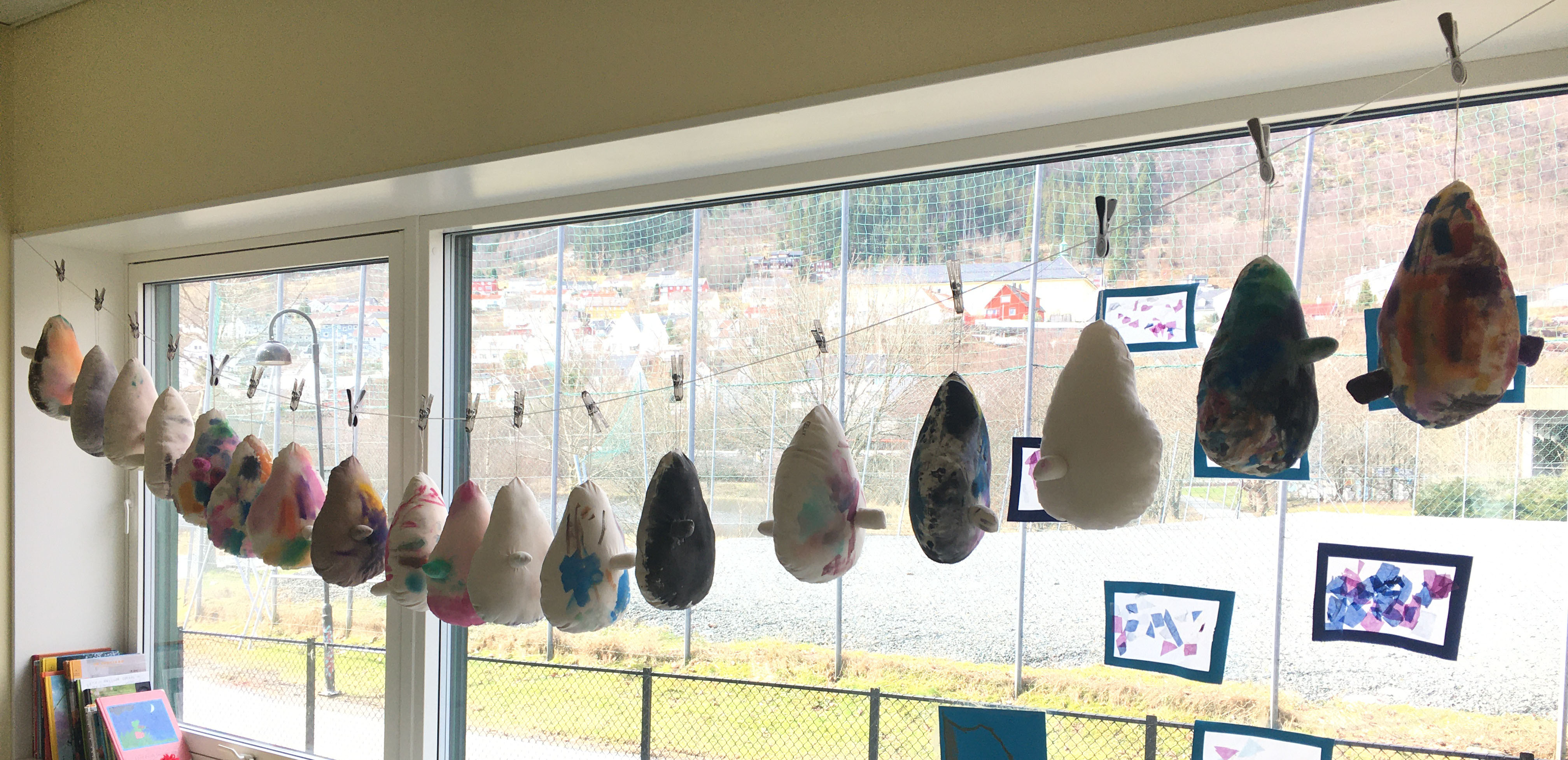 Recordare (Tida opnar seg)

Seven cotton sculptures with embroidered letters.

A combination of text and objects made for 'Recordare', an art exhibition and concert in Volda Kyrkje 12. november 2020. The church as a historic building and institution
accommodates time, rituals and is a place to visit during the great rites of life.

The embroidered texts are about time, human relationships and memories, and their form serve as an object for contemplation for the audience along the church pews. As a series they are visually more muted than my previous sculptures, as they were made to respond to the particular interior of the church.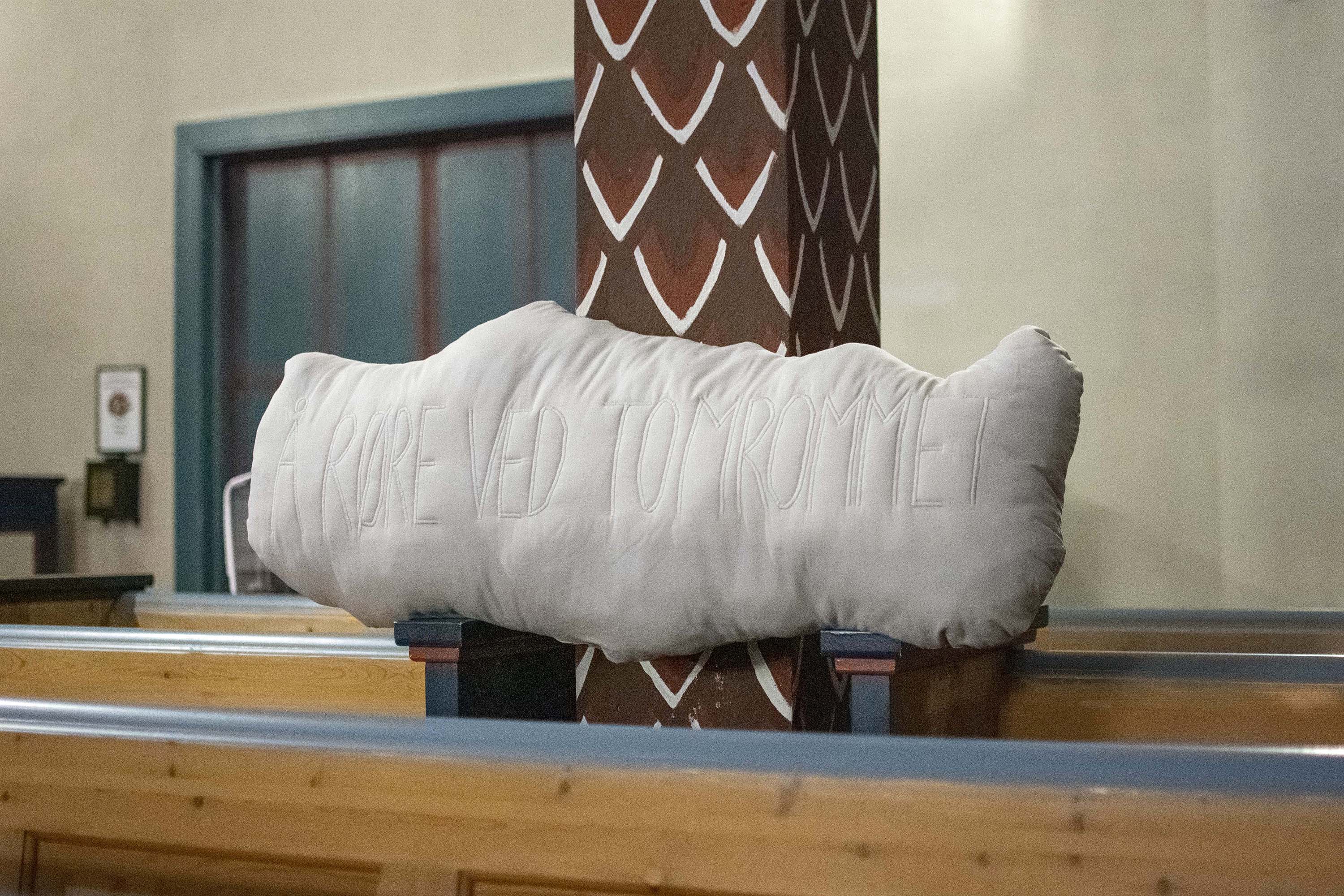 When you hear it, it speaks slowly, telling you it's okay
SÍM Residency, Reykjavík, Iceland

2019

This project picks up the thread from previous projects conceived in Finnmark and Bergen, working with objects in landscapes, as a performative action, and as a research project.

In recent years I have traveled closely with my sculptures, often carrying them in my arms instead of stuffing them in a suitcase. This means being forced to consider them every step of the way. Time spent with the objects is important, as well as bringing them out of the 'comfort' of the white cube.

I arrived in Iceland wanting to create new objects. We could explore new landscapes together and share new experiences while getting to know each other better. But unexpected feelings arose. Visiting my mother's home country alone and for the first time in many years, I found myself lodged in-between being a tourist, an artist and my identity as part Icelandic. I could understand the language, but not form sentences of my own. I blended in with masses of tourists, hurrying through to the next awe-inspiring site. As a performance artist I am used to drawing attention to myself, but this time I felt odd, displaced as I carried my brightly coloured friends from the city scape to the mossy landscapes.

As I worked with the objects, visiting sites, hiking, or simply just by holding them in my hands, I felt as though I slowly landed. We watched the sunset one evening when I thought about the uncertainty of finally arriving somewhere you have dreamed of for so long, and how we needed to embrace this uncertainty instead of fearing to be ignorant.

In a time of confusion it is good to have a friend, after all.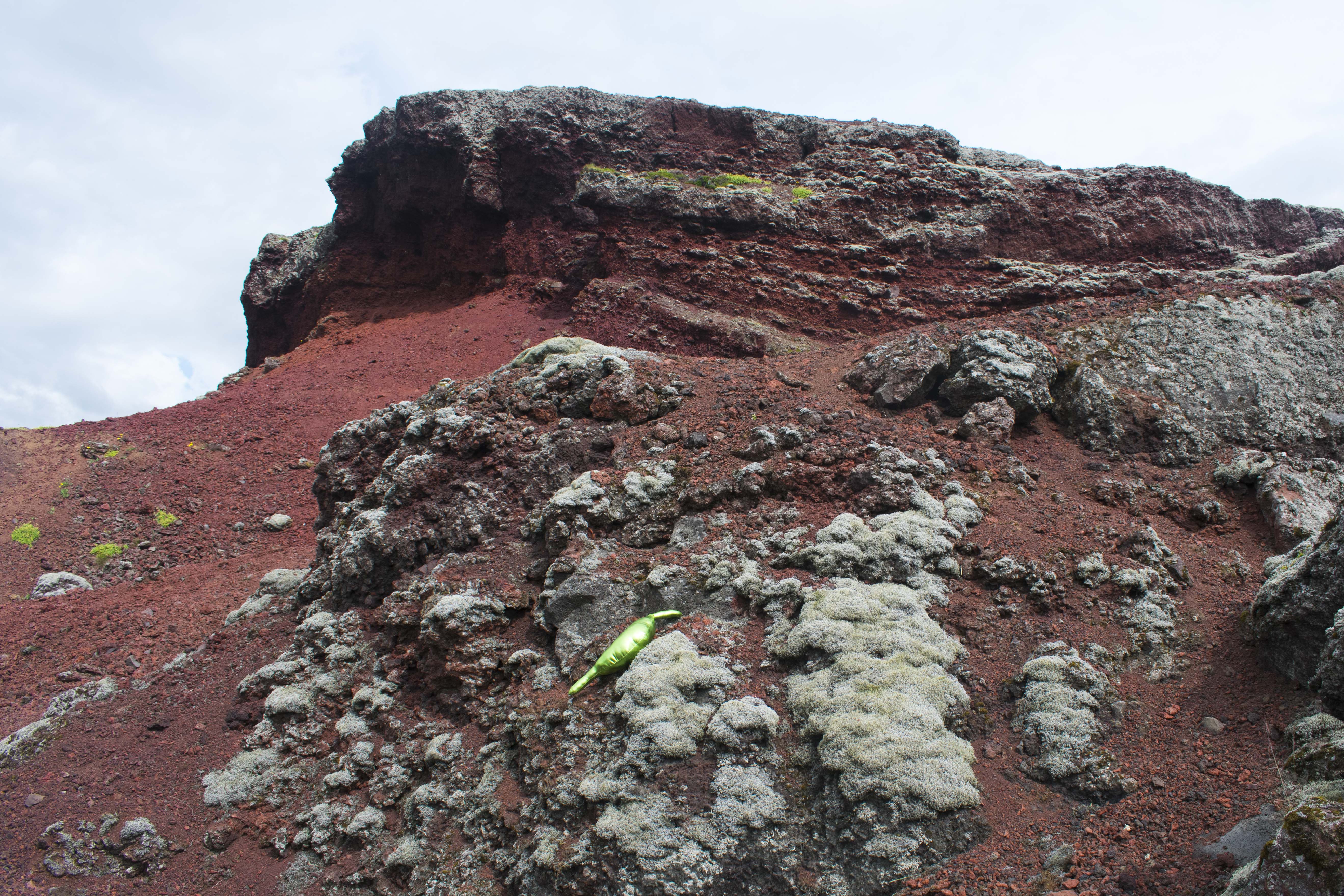 Writing one scentence a day, in response to a daily forecast from the astrology-app Co-Star
Presentation of the work in No Night for this Day
SÍM Galleri, Reykjavik, Iceland, July 2019